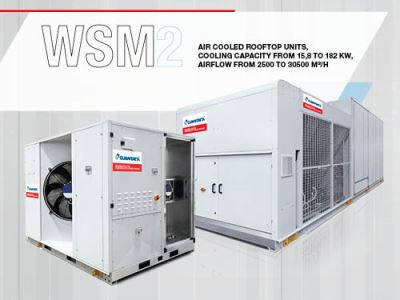 From Climaveneta's experience in the air conditioning of large commercial buildings comes the new range of compact rooftops WSM2 0052-0092. This range is the ideal solution for applications with small to medium spaces, as they offer a single unit that encompasses everything you need for air conditioning.
WSM2 gives you the maximum freedom of choice for the direction of airflows, both for supply and return, to adapt the units to any project. The benefits can also be seen during installation as the ductwork is greatly simplified since it is not subject to constraints dictated by a rigid layout to connect to the supply and return ducts. These units can also manage additional resources for heating and air treatment and, with free cooling operation, take advantage of favorable external conditions to air condition the environment without needing to use the compressors.
WSM2 units are characterized by high seasonal efficiency in line with the limits of the second step of the EU Regulation 2016-2281 which comes into force on 1 January 2021 (ErP 2021), thus demonstrating to be a truly innovative and high-performing product. WSM2 units are made with a sturdy and perfectly insulated structure, with an aluminum frame and sandwich   paneling, that ensures zero leaked energy waste. The compact structure also provides quick and safe transportation and installation, while providing easy access to the internal components.
The range consists of four sizes from 15.8 to 27 kW  (from 2500 m³/h to 5500 m³/h), all available in  reversible or cold-only versions and in three functions that allow you to adapt the unit to the specific requirements of the plant thanks to the quality of the standard equipment and a wide choice of accessories.